Berry season is here in the midwest, and it won't last very long! I love to savor the fresh berries while they last, but also like to preserve as many berries as I can by freezing so I can eat wonderful ripe local berries in the winter. I hadn't made jam in a really long time, because jam tends to be pretty high in sugar and I prefer to savor the natural sweetness of the fruit. That's why I was so happy to see this recipe on 100 Days of Real Food for reduced sugar Honey Sweetened Blueberry Jam (that also doesn't require any pectin)! And best of all, you can store the jam for longer periods of time by freezing it!
While searching for mulberries over the weekend, I happened upon some perfectly ripe juneberries (also known as serviceberries) and picked about 4 cups. (I also got about 1 mosquito bite per berry – but totally worth it!) The picture below shows what juneberries look like, but here you can see what they look like on the tree.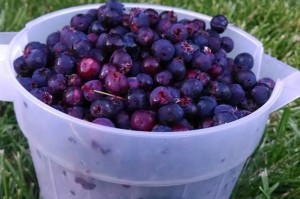 I decided to try out a honey-sweetened version of juneberry jam and came up with my own recipe based on the one posted on 100 Days of Real Food for blueberry jam. Juneberries are so sweet on their own that require very little (if any) additional sweetener. Please note that juneberries do have seeds, and I did not strain the jam to remove them.
Juneberry Jam (Sweetened with Honey)
Adapted from Honey Sweetened Blueberry Jam on 100 Days of Real Food
This very easy jam recipe could be used for any type of berry!
Gluten free/Grain free/Dairy free
Makes about 4 cups
1 quart (4 cups) juneberries
1/4 cup honey
Juice of half a lemon
Wash juneberries and remove any stems or dried out berries. Place berries into a medium-sized (stainless steel or enamel-coated) frying pan or skillet with honey and lemon juice. Stir to mix and mash berries with a women spoon or potato-masher. Heat mixture over medium heat until boiling. Then simmer berries for 10-15 minutes until the mixture thickens. Put right into glass jars. Cool and store in the refrigerator for immediate use, or store in the freezer for more long-term storage. You can also can the jam in a water-bath canner to make it shelf-stable.
This jam is very low in added sugar and absolutely delicious. It's the perfect spread for my Simple Sweet Potato Pancakes! Enjoy!