It's strawberry season here, and I picked 13 pounds of organic strawberries in just over an hour this week. I would have stayed longer, but had to rush back in time to see the US vs. Germany World Cup game! I will definitely be heading back to the farm for another round before the season is over. I like to pick lots of strawberries and freeze them in order to be able to eat them later in the year – depending on how long I can make them last. While the strawberries are fresh, I like to use them in as many ways as possible including this Strawberry Balsamic Vinaigrette. Since salad greens are bountiful right now, a great simple homemade salad dressing (without all the added sugar and often unhealthy oils in the store-bought stuff).
Why Organic Matters
I picked my strawberries at Jenehr Farm outside of Madison, because I wanted organic strawberries. At Jenehr farm, they tell you to eat as many strawberries as you want while you pick! What's not to love about that! The cost is significantly higher for organic strawberries than for conventional strawberries, but worth the price in my opinion. Strawberries are #2 on the Environmental Working Group's Dirty Dozen list, meaning they have the second highest levels of pesticides residues on them – second only to apples.
Higher pesticide exposure has been linked to increased miscarriage risk and male infertility in those trying to conceive. A recent study linked higher pesticide exposure (through residential proximity to farms using pesticides) during pregnancy to higher risk for autism in children. Pesticide exposure in children has also been linked to behavioral problems and childhood cancers.
The bottom line is that because the pesticide residues on strawberries are so high, it's worth spending the extra money for organic strawberries. On the other hand, conventional avocados are very low in pesticides residues and often have undetectable levels, so save money by buying the conventional version. Same goes for the rest of the fruits and vegetables in the Clean 15, the fruits and vegetables with the lowest pesticide residues.
Cost
Picking your own organic strawberries is cheaper than buying them at the grocery store – especially in the middle of winter when they are more expensive and harder to get, even for the frozen varieties. Plus local strawberries are so much sweeter and more delicious than the anemic under ripe strawberries that come from South America or California in the winter. I'd much rather savor the delicious local fresh strawberries now, and then eat frozen local berries the rest of the year (or however long I can make my picked berries last.)
Cleaning and Hulling
You do have to invest the time to pick, or you can buy pre-picked local berries, but be prepared to pay a higher price. When you get home, you need to wash and hull them (cut off the green stems). This can seem like a big job when you have a lot of berries, but it will be well worth your efforts. Just think of the delicious strawberry smoothies, sorbet, and salad dressing you can make all year long with your frozen berries.
I put the berries in a large bowl or sink full of cool water to rinse and hull them one at a time into a large bowl. Then I put them right into freezer bags and store in the freezer. I know some people like to freeze them on cookie sheets first to prevent the frozen berries from sticking together, but I find this step is unnecessary.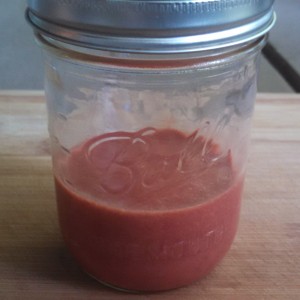 Strawberry Balsamic Vinaigrette
Gluten free/Grain free/Dairy free
Makes about ¾ cup
This simple vinaigrette has no added sugar and is best when made with local fresh strawberries, but frozen strawberries will work as well!
1 cup fresh strawberries, sliced
2 tablespoons lemon juice
1 tablespoon balsamic vinegar
2 tablespoons olive oil
Add all ingredients to the food processor or blender and blend until smooth. If you'd like the dressing to be a little sweeter, add a small amount of honey (to taste) and blend again. Enjoy!
Nutrition info per 2 tablespoons: 52 calories, 2g protein, 2g fat, 3g carbs
References
1. Environmental Working Group's Dirty Dozen
2. Pesticide Exposure and Autism Risk
3. Resolve: Impact of Environmental Factors, Body Weight, and Exercise on Fertility